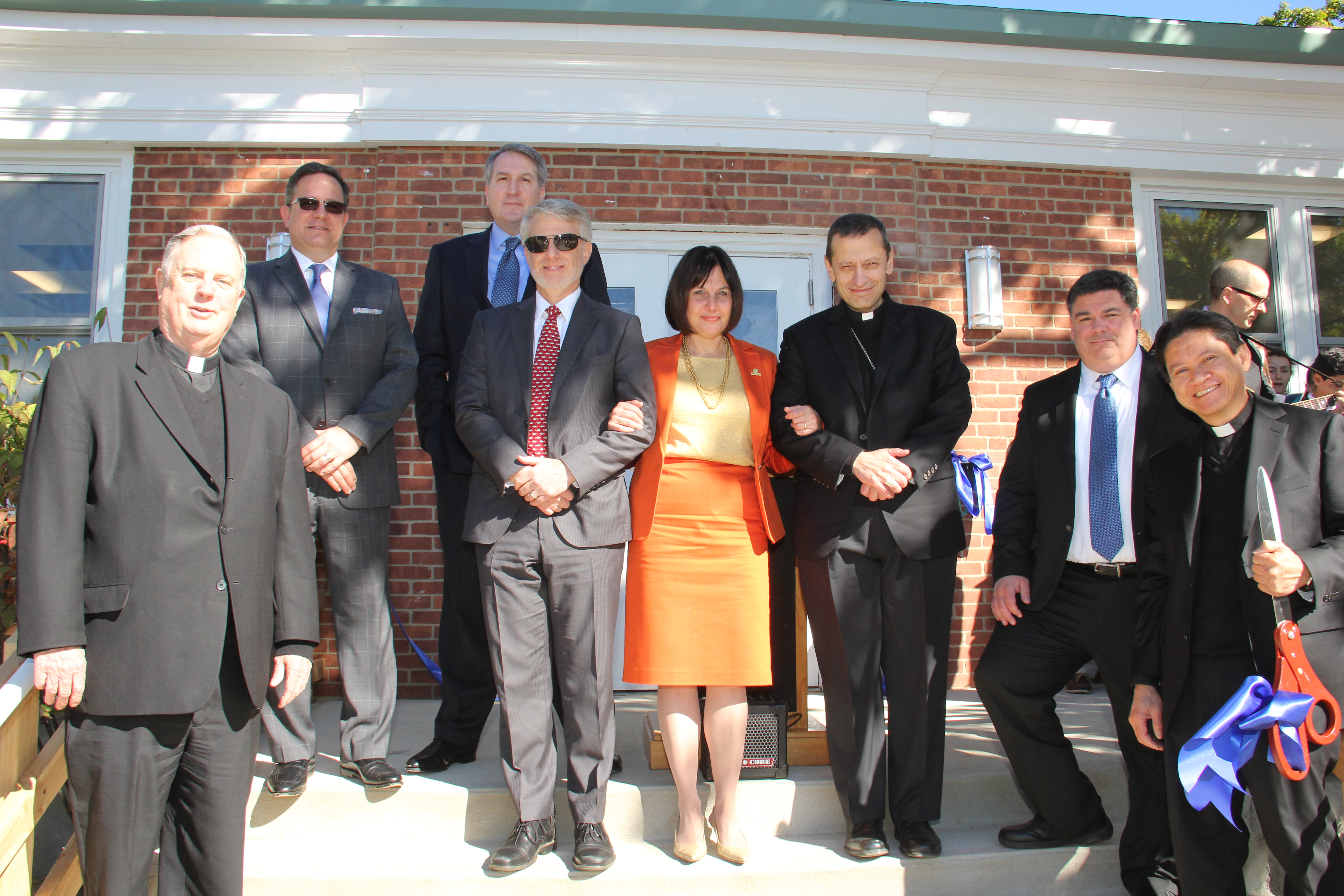 GREENWICH, CT – October 12, 2016
– The fall sun was shining brightly upon the Greenwich Catholic School community as they gathered together at the ribbon cutting ceremony for the newly expanded and renovated Upper School building yesterday. The event program included remarks and a blessing by Bishop Frank Caggiano.
Work on the Upper School, which houses grades 6, 7, and 8, began at the end of June. The construction scope included a completely renovated interior, the addition of two classrooms, a new roof, an energy efficient HVAC system, and ADA compliant restrooms. The $2.3 million project was made possible by gifts to the Imagine capital campaign, totaling almost $2 million.
Patrice Kopas, Principal, welcomed the ceremony attendees who, in addition to the school's 400 students, included teachers, parents, alumni, Diocesan administrators, and local and state elected officials. Mrs. Kopas addressed the students by saying, "This building is a gift to you. We love you and want you to be the best students you can be."
In his remarks, Imagine Campaign Co-Chair Mr. Brian Condon, P'20 thanked donors and campaign leaders, and he applauded the efforts of Mr. Mario Gaztambide, P'24, '25 for his oversight of the construction progress. He went on to praise lead donor and alum, Mr. Jim Dougherty, '72, P'01, explaining, "Jim and his family have a history of always being involved in this school. I am humbled by his generosity and the example he has set for all of us to give back to GCS." Mr. Condon concluded by sharing his own motivation for supporting the school by stating, "My wife Susan and I have made GCS a priority in our lives. We both believe that nothing is more important than the advancement of Catholic education."
Mr. Condon's Co-Chair, Dr. Andrew Sama, P'09, '12, '16, '18, '21, implored fellow school families to support the school's philanthropic efforts. "This building is living proof of what we can accomplish together. I challenge every GCS family who, like my own, has been graced by all that this school offers our children, to make a gift to the campaign," Dr. Sama said.
After expressing his gratitude to the Imagine cabinet members and donors for bringing the Upper School project to fruition, Bishop Caggiano stated, "This is a totally unique and historic day in the life of Greenwich Catholic School. Today will change the future of this school and let everyone know that GCS is here to stay forever." As he stood on the front steps of the remodeled building, Bishop Caggiano went on to draw parallels between the significance of the campaign's name, Imagine, and the road ahead for GCS students. "This is what we are doing here today: we are imagining what your future is going to be like," he explained. "Because of your Catholic education, you are going to unlock your future. Every single one of you has a great destiny ahead." Bishop Caggiano then proceeded to bless the building.
The ceremony closed with the actual ribbon cutting, while students cheered. When asked what she thought about the ceremony, a 2nd grader reflected, "I'm just glad the bishop brought such big scissors, otherwise it would have taken a really long time to cut that huge ribbon."
We invite everyone to be a part of Imagine by making a commitment to the campaign to ensure our children and GCS "have a great destiny ahead.